FAMILY VACATION IN ODESSA
Odessa-mother is suitable for any type of holiday, but especially welcome of course the family! Due to the proximity of the sea, a large number of attractions and beauty come here for a vacation with the whole family, and even families, which merge into one big friendly company. Especially useful this holiday by the sea or on the beach. Virtually all Odessa beaches are wide, spacious, with golden sand and playground, entertainment. Hotels in Odessa offer comfortable accommodations for two or more people. This is the most suitable option for a family holiday, it gets low and bright. Food, healthy sleep, cleanliness - all this is offered with a full range of services.
Also in Odessa can be found family entertainment: dolphin, water park, zoo. They love children, and parents, while the children have fun, relax your body and soul. Also from Odessa hotels on the beach due to its convenient location close to go to the club or interesting sights. This ensures clean air, the beautiful sea, beach sand and happy mood! Odessa is like no other city in Ukraine and is suitable for long walks. Quay fanned fresh breeze.
---
In Odessa worth visiting an amusement park!
---
Odessa amusement park offers family fun rides, carousel, swings, trampolines, kartodromy. For children, this unique experience. And of course the yacht on which to make a pirate trip! Moreover, Odessa Yacht offers more than just a boat ride, and now wandering abroad for a few days. You can look at what life is like for people in Turkey or any other country, adjacent to the Black Sea. If the boat does not have enough cash, you can easily buy or rent a boat. It is usually placed the whole family. On the boat, many families make boating, sunbathing, go fishing, admiring the sunset travel.
Family holiday lets get to know friends and relatives, they discover something new, and Odessa adjusts to positive. Its atmosphere helps to get closer, more united. Kids get all the possibilities for fun and games: sea and sunbathing, popular children's centers, parks and more. Those families who wish to instill in your child the love of all that is beautiful, can visit - and enjoy visiting - Odessa attractions. Palaces, museums, old streets, monuments, even stairs - all covered with the spirit of antiquity and is reminiscent of the past. Children absorb it and begin to better understand the world in which they live. Odessa entertains and teaches at the same time. The famous zoo baby will enjoy living creatures, and the circus show such tricks, breathtaking.
If a family many fond of football, volleyball and / or other sports, then it is always possible to play on the beaches of Odessa. The same goes for training. A jogging trail exists Odessa health.
---
Spend your family vacation in Odessa - you enjoy it!
Rooms list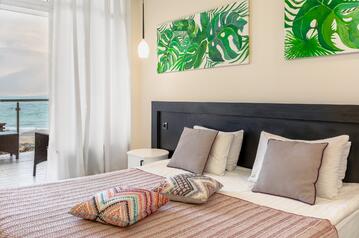 Comfortable room of 16-18 square meters with sea view and balcony. The individual design of each room. Located on the 1st and 2nd floor. Number of rooms "Standard" - 6 rooms.
Book Now
1900 uah

/

night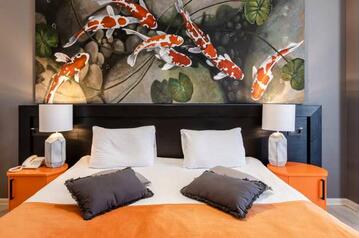 Comfortable room area of 16-18 sq m, with sea view and balcony. The individual design of each room. Located on the 1st and 2nd floor. Number of rooms category "Superior" - 8 rooms.
Book Now
2400 uah

/

night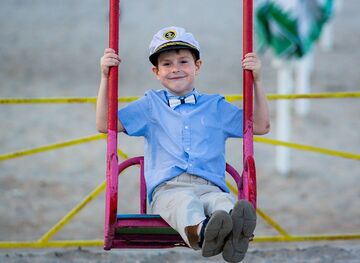 PLAYGROUND
Сhildren's play ground with swings and a slide is located directly on the sand next to the hotel. Our young guests enjoy playing the playground under the cupervision of nurses.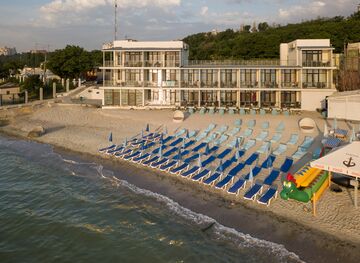 BEACH
The beachfront with sunbeds located around the corner from the hotel and restaurant. The beach towels, umbrellas and sunbeds are free for the hotel guests.Also we have a shower on the beach. Welcome to the bright and warm summer!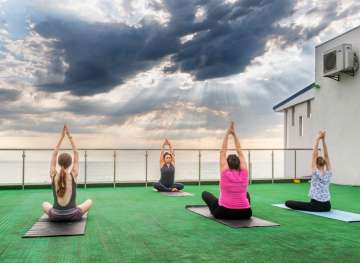 YOGA
We care not only about the comfort of our guests, but also about their health. In the warm season, on the summer terrace of the hotel, a professional yoga trainer conducts classes for hotel guests completely free.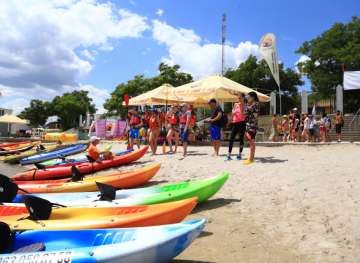 CAYACKING
There is a wonderful opportunity to meet the dawn on the kayak right in the sea! These are amazing, incomparable impressions! Or take part in other interesting kayak excursions.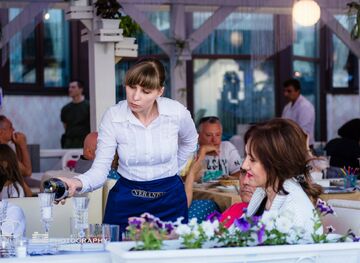 RESTAURANT
Guests of the restaurant "Veranda" offer culinary traditions of European and Odessa cuisine - delicious meat, poultry on tandoor and mangal, as well as specialties from fish and seafood of the freshest catch.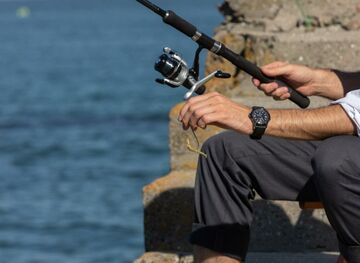 Fishing

You can use the fishing tackle rental service and try your luck fishing from the pier next to the hotel! After all, fishing is a pleasure! Just imagine: silence, sea and you with a fishing rod.

How much is accommodation at Hotel Skopeli in Odessa?

The cost of the room during the summer period ranges from UAH 2900 to UAH 4500 per night with breakfast for 2 guests. The cost of a room in the autumn-winter period is from 1400 UAH per day without breakfast and from 1700 UAH per day with breakfast for 2 guests

What is included in the cost of living?

The price includes breakfast, Wi-Fi, use of the beach.

What service does a hotel in Odessa offer for a holiday with children?

Extra beds are free for children up to 12 years old. You do not need to pay for the use of a cot and high chair.

The hotel has a restaurant "Veranda", whose chef has developed a children's menu. And in the hall of the restaurant there is a cozy corner for kids with albums for drawing, colored pencils and toys.

Is there a restaurant in Hotel Skopeli?

Design Hotel Skopeli has its own restaurant - Veranda. This is an ideal place for friendly meetings, romantic dates, family or corporate celebrations:

The main hall, designed for 90 seats, is divided into two cozy dining areas.
The outdoor summer terrace can accommodate 100 people.
The restaurant menu is filled with a variety of European and Black Sea cuisine. You will be offered:

fresh seafood delicacies,
salads of vegetables, meat, seafood,
branded recipes for meat and fish on the tandoor and barbecue.
From drinks lemonade, smoothies, fresh fruit, tea with a variety of berries and fruits. Also excellent draft beer, strong alcohol, cocktails for every taste.

/*?>*/ ?>