Skopeli — hotel for couples in Odessa
---
Your wedding date is coming, and you want to spend your honeymoon in an unforgettable place? Want to surprise your spouse and celebrate the anniversary of a relationship or spend a great time in an unusual location?
The Skopeli design hotel, located in the center of Odessa on the Langeron beach, was just created for lovebirds. We will help you arrange the perfect romantic date, which will give you vivid and memorable emotions.
Our hotel for couples in Odessa offers rooms with a unique design and a stunning sea view. Here you will find everything you need for absolute relaxation. Breathtaking emotions and a great mood are guaranteed!
---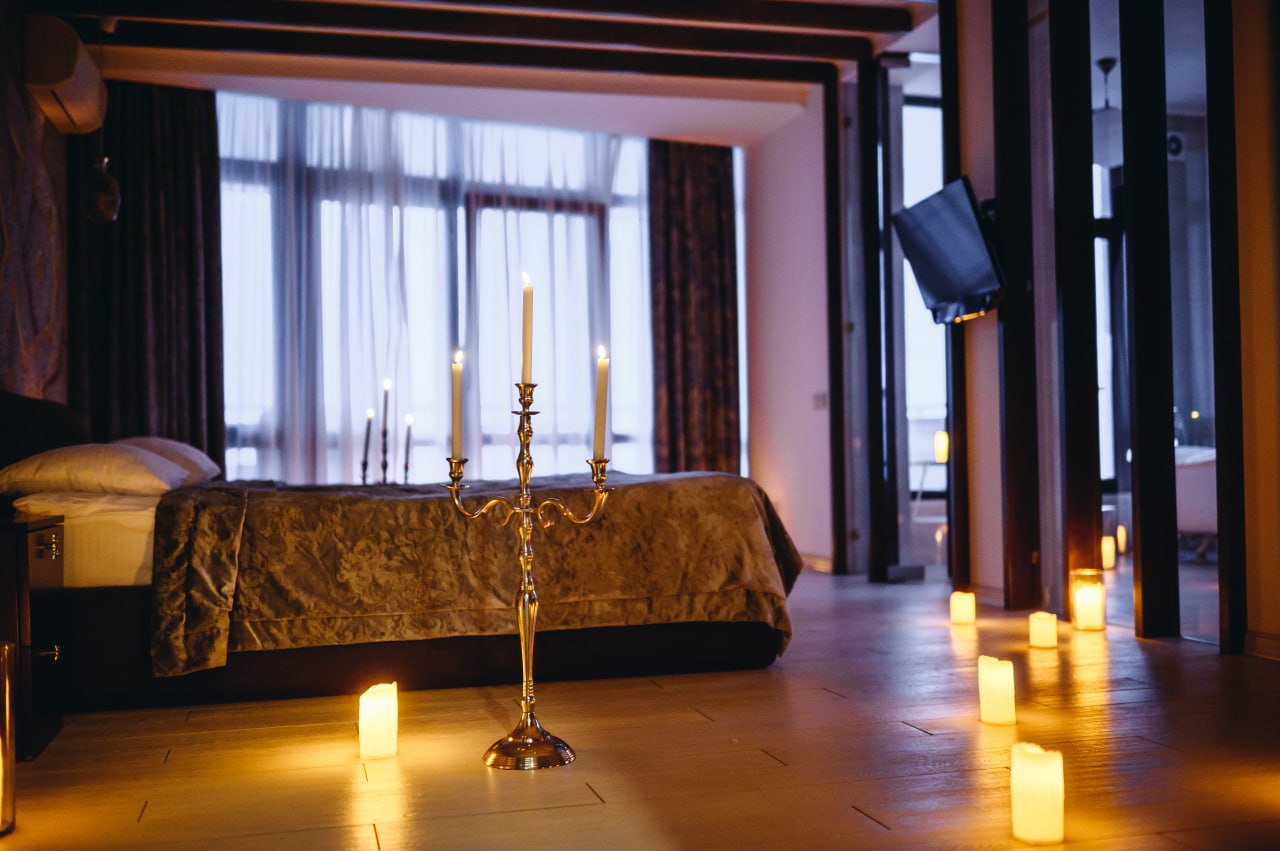 ---
Romantic rooftop date: dinner with a pleasant aftertaste
---
Are you thinking about how to arrange a romantic surprise in Odessa and want to please your spouse with a romantic dinner in an unusual location? We will arrange a rooftop date in Odessa with a sea view. At your disposal:
table on the summer terrace on the rooftop of the hotel located on the Black Sea;
tasting gastronomic masterpieces by the chef of the Veranda restaurant. If necessary, we will tailor the menu to your wishes. In the restaurant's beverage menu — an extensive selection of wines and cocktails which combine perfectly with the taste of meals;
special atmosphere with a stunning sea view from the rooftop of our design hotel. You'll be enjoying the sunset, while the sound of the surf will complement a unique romantic atmosphere, conducive to a good rest.
If you want to celebrate a birthday, wedding anniversary or other important date, Hotel Scopeli is also at your service. Just for you, we will create a unique holiday atmosphere on the Black Sea coast, carefully select the menu and provide friendly and competent staff to service the event. The evening in the cozy restaurant Veranda by the sea will give a lot of positive emotions.
---
Why you should choose the Skopeli design hotel in Odesa for a romantic vacation for two
---
Looking for a bridal suit in a hotel in Odessa? Choose among five "Suite" in the Skopeli design hotel with a sea view and balcony. The area of this room - 25-35 sq.m. At your service — Wi-Fi, King Size bed, mini fridge, plasma TV and mini-safe. You can also book a standard or superior room for newlyweds in Odessa, which provides everything necessary for your comfort.
There is a restaurant Veranda on site where you can spend unforgettable evenings for tasting masterpieces of European and Odessa cuisine made of meat and poultry, cooked on the grill or in tandyr. Be sure to try seafood and fresh fish specialities. We offer a wide range of wines, drinks and cocktails that highlight the flavor of meals. The chef will help you to create an individual menu and realize any gastronomic wishes. The panoramic windows in the hall allow you to watch the dawn and sunsets of spectacular beauty. The sound of the surf and unobtrusive music create a special romantic atmosphere, conducive to communication and relaxation.
---
If you decide to spend your honeymoon or vacation with your spouse in our hotel, the following is at your service:
relaxing hammam with hot tub overlooking the sea and access to it;
yoga classes on the hotel's summer terrace — free of charge;
a photo shoot in any room you like most to capture your love story;
restorative and relaxing massage by an experienced specialist;
fishing on the pier near the hotel;
kayaking for those who like active recreation.
Spend a romantic evening for two in Skopeli, Odesa!
---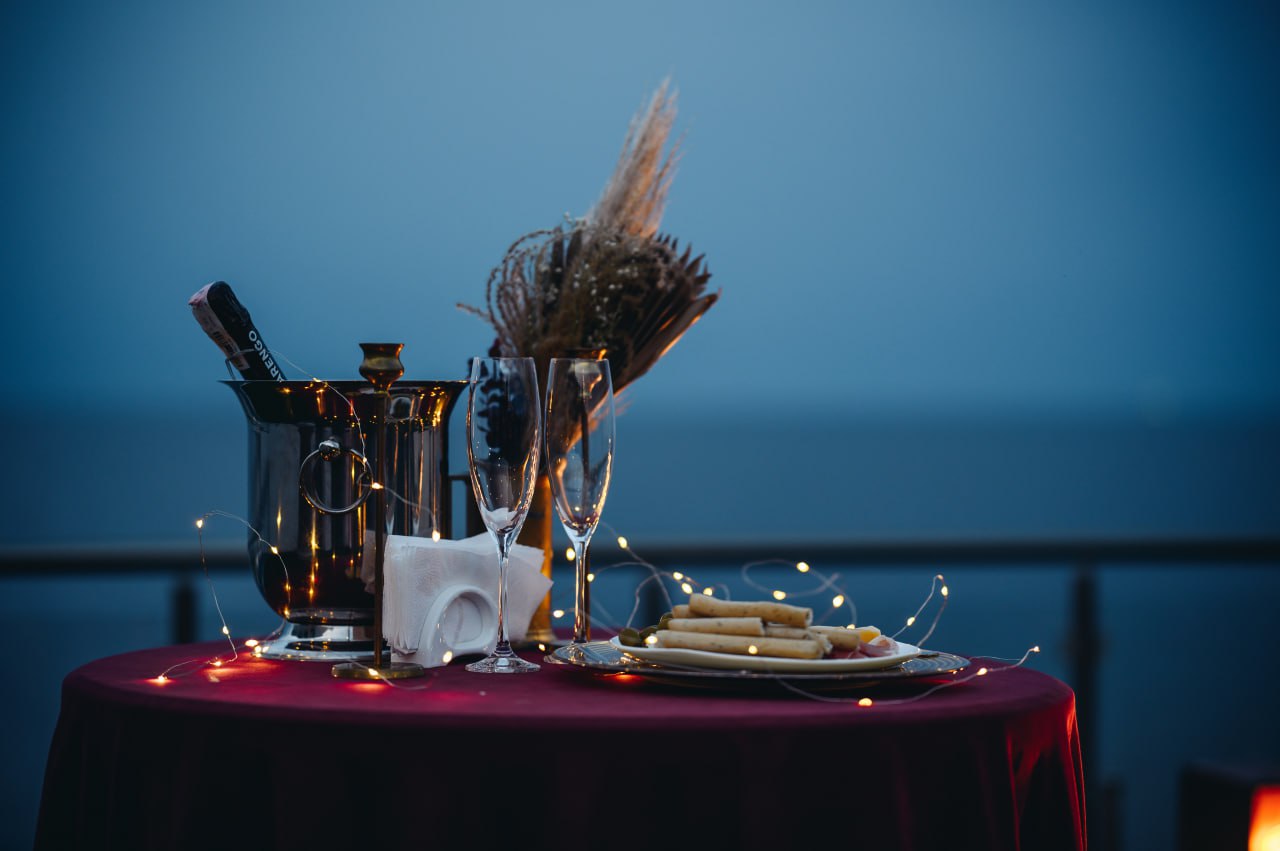 Rooms list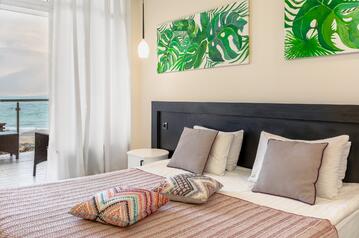 Comfortable room of 16-18 square meters with sea view and balcony. The individual design of each room. Located on the 1st and 2nd floor. Number of rooms "Standard" - 6 rooms.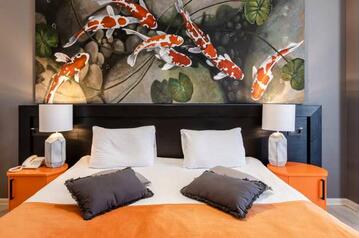 Comfortable room area of 16-18 sq m, with sea view and balcony. The individual design of each room. Located on the 1st and 2nd floor. Number of rooms category "Superior" - 8 rooms.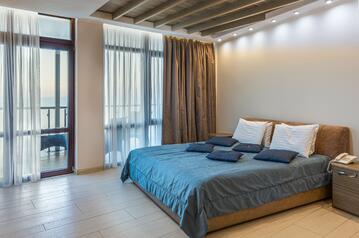 Comfortable single room area of 18-22 square meters with sea view and balcony. Individual design . Located on the 2nd and 3rd floor. Number of rooms "Suite" - 5 rooms.
In addition to your services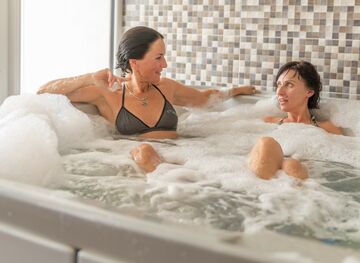 RELAXING HAMMAM
Design-hotel Skopeli offers: Hammam and hot tub on the ground floor of the hotel with sea view and access to the sea! Slippers, towels - we provide. The maximum number of guests is 5.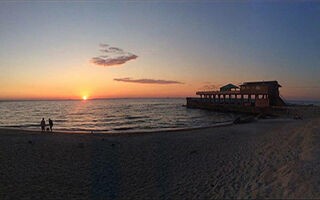 PHOTO SHOOTS
We offer an exclusive opportunity for you - photo shoot in our design hotel! We will help you choose a room whose design will impress you and the photos will be exceptional!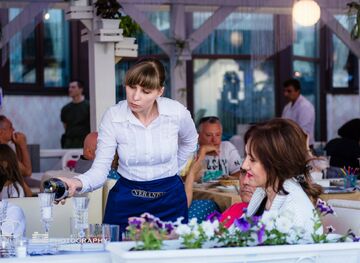 RESTAURANT
Guests of the restaurant "Veranda" offer culinary traditions of European and Odessa cuisine - delicious meat, poultry on tandoor and mangal, as well as specialties from fish and seafood of the freshest catch.